Jamie Dismuke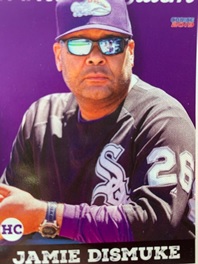 Jamie Dismuke - Objective
Proactive, organization oriented hitting coach with over 20 years experience in Minor League Baseball and experience with the Atlanta Braves as an assistant for 3 months. Coached a championship team in the Arizona Fall league, Stockton California, and won a championship in Venezuela with the Caribes. Looking for a hitting coach or manager position. Experience Hitting Coach
Chicago Whitesox Organization Chicago, IL
October-2014 - October-2019
Hitting Coach
Hitting Coach
Atlanta Braves Organization Gwinnett/Jackson
October-2008 - October-2014
Hitting Coach
Cincinnati Reds Organization Cincinnati, OH
October-1999 - October-2008
Hitting Coach
Winter League
Maricabo, VZ and Caribe, VZ (Won the Championship)
October-2011 - October-2014
Minor League Baseball
1B/OF drafted by the Cincinnati Reds in the 12th round of the 1989 amateur draft. Played in the Reds organization (1989-1995, 1997), Toronto Blue Jays (1996), and Detroit Tigers (1996) chains, reaching AAA for all of 1994 (.266/≈.345/.422) and parts of 1996 (13 games) and 1997 (19 games). Skills Chipper Jones, "If the Braves want to keep it in house, Jamie Dismuke is the guy for the job." Interview by Mark Bowman 2012
Kelly Johnson, ...made good use of his time, hitting 308 in 13 games including 2 three-run homer games and working with Hitting Coach Jamie Dismuke. "He was a big help and had some really good suggestions". July 2009 Justin Turner, He name checks.....minor league instructor in Cincinnati too...Jamie Dismuke (hitting instructor) Grinders like him, baseball lifers he appreciates. "From small things, comes big things."